One of the key symbols of Passover, the unleavened bread Matzoh represents both afflication and freedom, as well as spiritual purity and trust in G-d. We are required not only to eat Matzoh during the seder, but also to explain it's significance. Traditionally, three matzohs are placed on on the matzoh plate; In recent times, some add a fourth matzoh to represent and bring hope for those still in oppression today.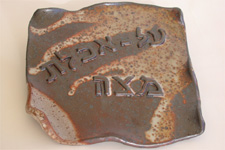 Sandstone - Al Achilat Matzoh
Similar to Matzoh plate above, but the ending words of the matzoh blessing, "on the eating of the matzoh" are sculpted into the design.
$160